Transfers from Malaga airport to Manilva

Book an economic private taxi or bus from Malaga airport to Manilva with our transfer services filling in the form on the top.
City Information

Distance from Malaga: 94 km.

Time to reach: 1 h.
Area: 35.6 km2.

Population: 14.390 hab.

Weather: 18ºC.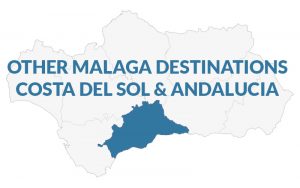 Visit Manilva and Sabinillas
A few miles west of Estepona, lies the quiet little village of Manilva and Sabinillas, a district in the municipality. Manilva is a separate destination, surrounded by a natural area which is neither built nor exploited, where is outstanding the beautiful and quite unknown Torcal de Manilva, which is considerably smaller than the Torcal de Antequera although very interesting because of its proximity to the sea.
Sabinillas and Marina de la Duquesa
The municipality of Manilva, located in the interior, is just two miles from San Luis de Sabinillas situated on the coastal area. Here in Sabinillas tourists are staying at fine hotels enjoying their beach holidays. From the coast and a short distance to the west, the marina of Puerto de la Duquesa makes its appearance, which we advise not to ignore as it worth a visit and is equipped with restaurants, shops, and other services.
"The beach of Sabinillas"
Of course bathing on the beach of Sabinillas and enjoying the placid days sunbathing is a highly recommended activity in this town of Malaga.
Things to do in Manilva
In the hinterland, in Manilva, a must have is a visit to the stunning Church of Santa Ana, surprising for its size and architecture. In the village there are many bars, shops, cafes and restaurants of all kinds.
Like most towns in inland Andalucia, Manilva conserves stories and events of other times and ages past, being a participant in disputes of civilizations or clashes between cultures; not surprisingly, it is said that Julius Caesar himself travelled to the town to try to cure a skin disease taking sulphur baths in local waters.
You also have the option to discover the curious La Duquesa Castle, located west of the Marina de la Duquesa, near the beach. Friday is celebrated traditional flea market of Manilva.
Travel to this destination
Sabinillas and the surroundings of Puerto de la Duquesa have a splendid offer in hotels and holiday resorts, some of them quite luxurious. Furthermore, it is increasingly common that after visiting this destination foreign tourists buy properties and homes in this quiet area of ​​the Costa del Sol.
From Manilva it is worth exploring its natural environment practicing hiking or visiting the Torcal. Visitors often venture to explore other nearby destinations, such as Estepona, Casares or already in the province of Cadiz: Algeciras, La Linea de la Concepcion, and even the British territory of Gibraltar.
Photo Gallery
From Malaga airport to Manilva
If you need a Malaga airport bus or a vehicle with less capacity as a standard taxi or a luxury car to travel to Manilva.