Transfers from Malaga airport to Seville

Book an economic private taxi or bus from Malaga airport to Seville with our transfer services filling in the form on the left.
Visit The City of Seville, Andalusia
The city of Seville is a wonderful destination to spend your holidays. Its main attraction is based on the myriad of beautiful spaces you have available upon arrival, among monuments, religious buildings, parks, museums, buildings and architecture or amusement parks. It is one of the cities with a large historical district; keep reading to know the places you should not miss during your visit.
Interesting Places to see
Walking along the promenade of King Juan Carlos I alongside the Guadalquivir River, is highly recommended.
Seville Cathedral (Cathedral of Saint Mary of the See, gothic and considered one of the most impressive in Spain, becoming a good reason to visit the city. The Giralda of 101 meters approximately next to the cathedral, and is actually considered as the bell tower of this religious building.
The impressive and beautiful Plaza de España is an obligatory stop in your excursion; it is located beside the park of Maria Luisa. The Torre del Oro, is another very attractive monument and very frequented by tourists.
Maestranza Theater providing a wide range of musical and theatrical performances, and the Maestranza Bullring, these two destinations located in the center of Seville.
The Andalusian city has a variety of natural areas, among which we highlight: Maria Luisa Park, Prado Park, Infanta Elena Park, Alamillo park, Miraflores Park, Alcazar Gardens, Gardens of Catalina de Ribera, Guadalquivir Gardens, Princes Park, Jerome Park and advised to visit the solemn cemetery of San Fernando.
The Seville Museums: Museum of Fine Arts, the Arts Center of Seville Navigation Pavilion, archaeological museum, Museum of Arts and Popular Customs, Science Center, Flamenco Dance Museum, Andalusian Contemporary Art Centre, House of Pilate, Antiquarium, General Archive of the Indies, the Naval Museum.
Plaza Nueva, City Hall and Bank of Spain, both are next to each other and enrich your tourist visit. Highly recommended is also contemplating the Andalusian Parliament.
The Cartuja Island was the place where the Expo was held in 1992 and this event left a very special architecture to admire, very close is the Cartuja monastery.
Enjoy the spectacular passage through some bridges of Seville Triana Bridge, Alamillo Bridge, the Barqueta Bridge, among others.
Seville has different proposals of entertainment with visits to: Isla Magica, Aquapolis Water Park, Olympic Stadium in Seville, the Sanchez Pizjuan and the Football Stadium of Betis (Benito Villamarin).
The Metropol Parasol will surprise you with its wooden structure in the form of mushrooms; here also find a shopping center and the Antiquarium.
You have the opportunity to play golf at the golf courses of: Real Club Pineda, Las Minas, Zaudín Golf, Real Club de Golf de Sevilla.
Economytransfer offers a means of transport completely personalized for your holidays in the Costa del Sol thanks to airport transfers Malaga.
Photography Gallery
Excursions and tours to Sevilla
Our team offers an affordable service of trips to Seville, a perfect alternative to private taxis. With day trips to Seville you can get to know some of the most interesting places in the Andalusian province. Ask for more information about tours to Seville from our contact page.
If you are finally determined to visit Seville, we remind our economic Transfer services from Malaga airport, start your trip from our website and enjoy!
City Information

Airport to Seville: 210 km.

Travel time: 2 h and 30 min.
Area: 141 km2.

Population: 703.000 hab.

Weather: 18,6ºC.
Seville Airport (SVQ)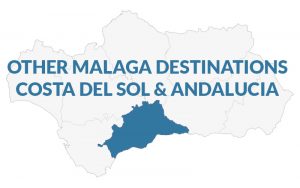 Visiting Seville
The city of Seville is an extraordinary place to spend your holidays whose main attraction is the innumerable amount of beautiful spaces at your disposal; between monuments, religious constructions, parks, museums, architecture, leisure parks, etc. It is one of the largest cities in terms of its historic centre. Below you will be able to get to know the most important places.
Video about Sevilla, Andalucia
Now you can watch some of the most interesting places of Seville from the next three videos: