Malaga Airport information
In Economy Transfer we provide you with useful information for users or passengers who will use the facilities at Malaga airport in the future. Malaga airport is located in the district of Churriana, 7 kilometres from the city and close to other municipalities as Torremolinos and Alhaurin de la Torre. The airport is well connected to other localities taking the urban motorway MA-21, also called Avenida Velazquez and the Highway MA-20, also called Ronda Oeste de Malaga.
Terminal 3
Currently the Terminal 3, opened in 2010, is the main artery of the passenger traffic at Malaga airport. The architect Bruce S. Fairbanks, in charge of the new terminal, conceived the three terminals as one single terminal, thus the T3 is connected from the north with the T2 and this one in turn with the T1.
The design and spaciousness of the Terminal 3 is outstanding transmitting a pleasant feeling to the travellers passing through it.
Another success are the large windows that run along the east side of the airport; thanks to the windows the installations are constantly lit by natural sunlight until sunset.
Terminal 1 and Terminal 2
Terminal 1 was closed with the culmination of the works of the T3, but Terminal 2 is still in operation focussing on the arrival and departure of non-Schengen flights and some Low Cost companies.
Second Runway
In mid-2012 was finished the construction of the new runway at Malaga airport which helps avoid possible congestion of flights due to high annual number of flights.
Passenger traffic
Year
2006
2007
2008
2009
2010
2011
2012
2013
2014
2015
2016
Total Passengers
13.076.252
13.590.803
12.813.472
11.622.429
12.064.521
12.823.117
12.582.191
12.922.403
13.748.976
14.404.206
16.673.151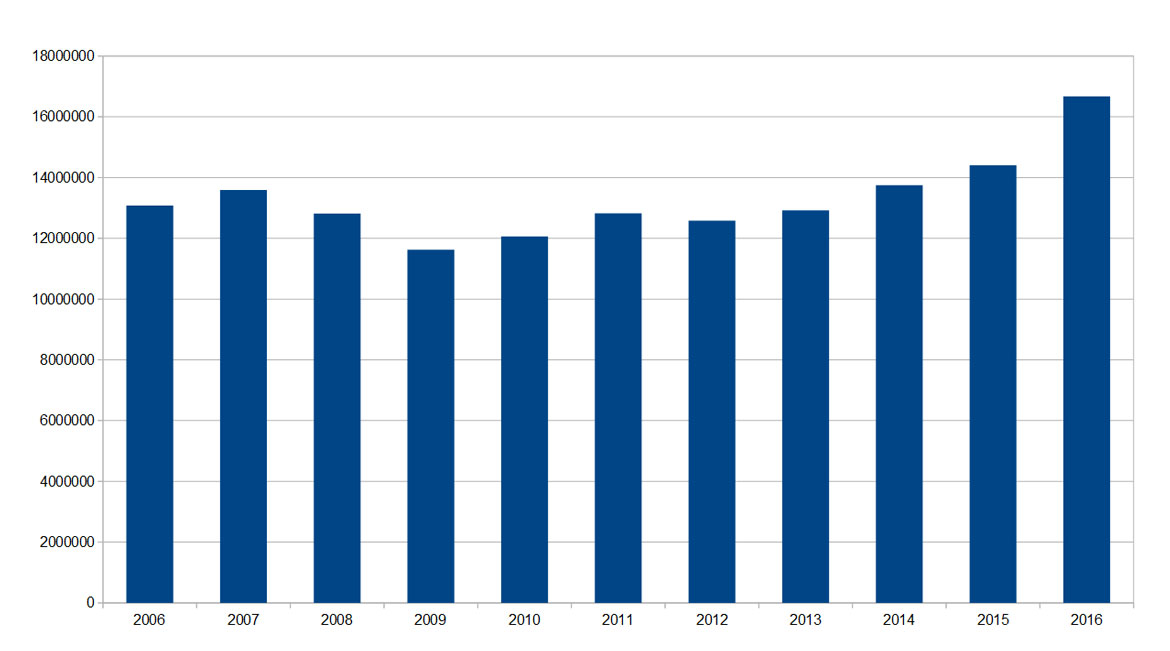 Arrivals and Departures
Further down we provide a panel where you can look up information of flight arrivals and departures; something very interesting if you're waiting for someone and you need to know the details of the flight, or if you want to confirm what time will depart your flight and possible delays.
Find further information about arrivals at Malaga airport and departures from Malaga airport by clicking on the corresponding links.
Transport
Below we discuss each of the transportation options that you have upon arrival at the airport:
Bus from Malaga Airport
Just outside Terminal 3 you will see the bus stop of the airport. Avanzabus buses can greatly facilitate arrival at almost any hotel in Torremolinos or Benalmadena. Furthermore, there are buses to the bus station in Malaga and other municipalities as Algeciras, Marbella and Estepona.
Suburban train
Another public transport option is taking a train from the airport train station which can be found just across the street leaving the T3. You can take a commuter train to Malaga centre or in the other direction to the towns of Torremolinos, Benalmadena and Fuengirola.
Car Hire
If you don't mind driving a car to travel around towns and cities where you have not been before, you will like to know that at Malaga airport and surroundings are available lots of car rental companies.
Taxis and transfers
No doubt both taxis and transfer services are the most comfortable and best transport. But if you should opt for one of these two services we recommend transfers, in addition to the advantages over a conventional taxi, hiring in advance you´ll know the cost of travel at all times, the drivers speak several languages, someone will be waiting at the airport to help you with your luggage and you´ll enjoy a personalized service and first-class vehicles.
Shops, Restaurants and Bars
Both Terminal 2 and Terminal 3 offer plenty of restaurants, bars, cafes, gift shops, etc. Also, once you've checked in and accessed the boarding area there are still more establishments to help you through the waiting time or calm your appetite until your departure.
Airlines operating in the Airport
In Malaga, like in other major airports such as Mallorca, Madrid or Barcelona ​​operate the most important European airlines and to a lesser extent also international airlines. These are some of the best known airlines that provide flights to Malaga:
Lufthansa
Norwegian
British Airways
Air Europa
Air France
Iberia
Easyjet
Air Berlin
Ryanair
Delta Airlines
Vueling
Condor
among others.
Data and Address
IATA code: AGP
OACI code: LEMG
Address: Avenida García Morato s/n, 29004 – Malaga (Spain)
Phone numbers: 902 404 704 / (+34) 91 321 10 00
E-mail: infoagp@e-externas.aena.es
Oficial website: www.aena.es