Where can you get a bus from malaga airport?
Malaga airport has a bus stop located opposite the terminal T3 or arrivals and departures terminal. Usually most buses run every 30 minutes and from this stop will depart most public transport.
Direct transport service with the company Avanzabus
There are direct transport services by the company Avanzabus by Portillo. These buses leave the airport and head towards different hotels of two destinations:
Bus from Malaga Airport to Torremolinos,
with stops in a large list of hotels, total journey time 30 minutes.
Bus from Malaga Airport to Benalmadena,
stoping at hotels, complete route in 50 minutes.
If you need to know more about it,
you can check out the hotels along the routes of Torremolinos and Benalmadena.
Avanzabus also provides shuttle service to these three destinations:
Direct bus from from Malaga Airport to Marbella*,
time travel: 45 minutes.
total journey time 1 hour 15 minutes.
Direct Bus to Algeciras,
total journey time 1 hour 55 minutes.
*Timetable: 6:15 am – 8 am – 10:15 am – 12 pm – 1:45 pm – 3:30 pm – 5:15 pm – 7:30 pm – 9:15 pm –11 pm. You have a most frequency during the summer season (bus every hour).
Book a Private bus with EconomyTransfer
Our transfer company in Malaga offers excellent shuttle service in minivan, minibus (12 and 19 seats) and bus prepared for up to 54 people. Of course, as with our private taxi, the driver will be waiting at the airport to take your family and / or friends to the place you indicate, not only in the province of Malaga, but to any destination in Andalusia. The most popular destinations are: Marbella, Mijas, Torremolinos, Buses to Nerja, Cádiz, Estepona, buses to Sierra Nevada, Fuengirola, Buses to Gibraltar, Benalmadena, etc.
For this service, you only need to proceed to the top of any of our pages and choose the field from Malaga airport and then the destination where you need to go, your dates and click the button.
Malaga Bus Station and Bus Lines Portillo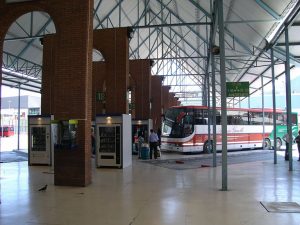 Malaga bus station connects with many municipalities and areas of Malaga; to get there you have to take a bus from the airport to the bus station in Malaga city; a journey that won´t take longer than 20 minutes. There you will have many connections to travel to other municipalities, provinces of Andalusia and Spain, even other countries.
Bus to Malaga: Portillo facilitates arrival at various points in Malaga city and the city centre (Line 19); public transport towards Malaga departs at the airport bus stop. It's one of those buses that part with a few people and get full along the various stops. The first bus starts out from 7 am and the last one leaves at 00:00 pm.
Phones and official websites
Malaga buses official website: http://www.emtmalaga.es/
Phone number: 902 527 200
AvanzaBus Portillo website: http://portillo.avanzabus.com/
Phone number: 902 02 00 52